Danish translator for your translation
from English into Danish and
from Danish into English
You will get high quality translations owing to Pia Sander's experience as a professional translator of English and Danish for more than 25 years.
One example of why it is so important to choose a qualified Danish translator can be seen below. The picture shown is a Certificate of Conformity. However, it made the Danish engineering company that received laugh as it was passed around among its employees as an example of very poor translation or rather an unedited machine translation.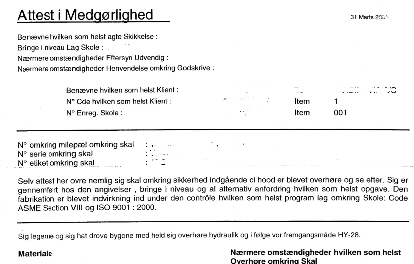 In her capacity of English translator translating to and from Danish, Pia Sander has worked with a wide range of projects such as:
Translation of a book from Danish into English about Henne Kirkeby Kro, a Danish inn renowned for its cuisine and architecture and for the art and nature that is part of it
Translation from English into Danish of certification documents for sustainable fisheries for MSC
Translation and proofreading of user manuals for robotic surgical instruments
Translation and production of an international magazine, featuring articles related to the dairy industry - production, research, marketing, and nutrition - Scandinavian Dairy Industry
Translation of scientific articles from Danish into English - DBI – Danish Knowledge Centre for Fire and Security technology
Translation of contracts for e.g. distributors, and of user manuals for e.g. oligonucleotides – DNA Technology
Translation of user manuals for x-ray equipment as well as company profile brochure into Danish and English - Santax Medico
Dehumidification equipment – Danish to English translation of text for web - Cotes
Translation of business reviews, management summaries, and executive business communication into English from Danish for major consultancy
Translation of it-project management communication from Danish into English for major consultancy
NF1 information material – translation from English into Danish for NF Danmark
Article on heroin assisted treatment – translation from German into English - KABS
Translation of content for websites from Danish into English and from English into Danish
Translation of recipes for cookbooks in InDesign – Bonnier
Translation of campaigns for international hotel websites such as Hilton Nordic
Translation of e-learning for the sales personnel of HTC smartphones
Translation from Danish into English of part of the book: "A sphere in Architecture and Astronomy" – about astronomy related to architecture
Legal translation of contracts, waivers, from English into Danish - Ultrarun.com